What Is SEO? Search Engine Optimization Explanation & Key Success Factors
SEO stands for Search Engine Optimization, regarding the search engine results for Google, Yahoo, and Bing (primarily).
What does SEO mean?
SEO is the backend website and online keywords and coding used to help you rank higher on search engines like Google, Yahoo, and Bing.
Simply put, SEO is the process and strategies used to increase traffic to a website. Using multiple SEO techniques and keyword research tools will help a website be found by people searching anywhere on the internet.
Top notch Search Engine Optimization can be fundamentally achieved by these 5 processes:
Using specific keywords in titles, headings, descriptions, and content

Adding related keyword strings that enhance the content

Include images and adding alt text descriptions to them

Build an online architecture leading to and from a website with links

Create trust and authority with external profiles
The Periodic Table of SEO Success Factors
There are many factors that contribute to optimizing a website and off-page content. Luckily, Search Engine Land took the step to create a wonderful table outlining these SEO success factors in a periodic table format.
Included in the table are the following factors that contribute the success of a website's content optimization:
Content – The text quality, freshness, keyword relativity and accuracy

Architecture – The technical flow, crawlability, speed, security and URL formats

HTML – The structure setup, titles, headings, tags, and descriptions

Trust – Validity, reliability, creating authority and identity while providing accuracy

Links – Links webbed within and backlinking from many quality sites and posts

Personal – Providing locality, connectivity, and social likeability

Social – Respected social brands provide reputation growth and encourage sharing
Take a look at The Periodic Table of SEO Success Factors by Search Engine Land for a full description of each of the influencing factors and download the table yourself.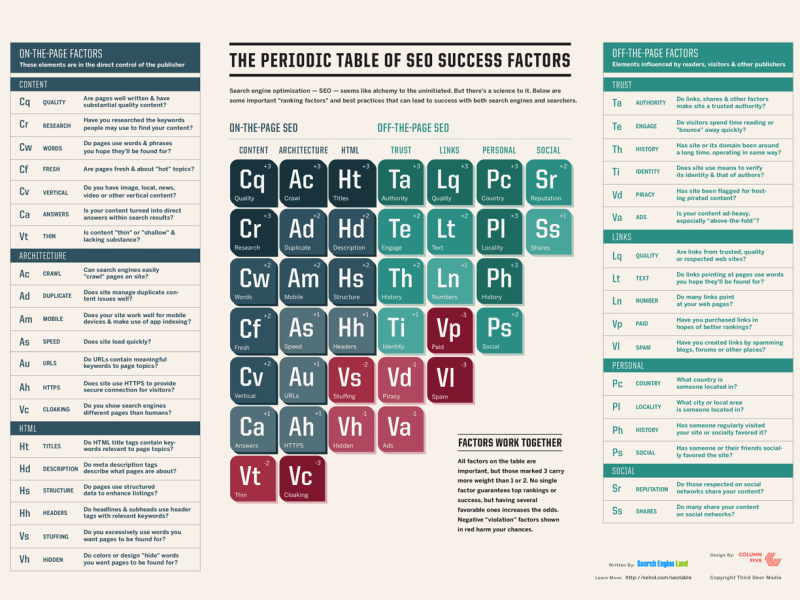 We're not going to lie, SEO is a beast to master. There are many moving parts that contribute to the overall success of SEO and they are continuously changing. But, by using this guide and other SEO guides, mastering these factors can happen and the progress will show in the search results.
SEO For Your Website
Managing this for a small business owner is quite time-consuming and can be a full-time job. That is why it is often suggested in today's growing competitive landscape to hire a local SEO expert. At the very least, hire an SEO specialist or SEO company to perform an SEO analysis on your website to get an overview of where the website stands on its own and on the search engines with its competitors.
Next Steps
Click here to hire an SEO expert.