SMS texting – How a Local Business Can Dominate With This #1 Marketing Tool
It's no secret how saturated the local small business market can be.  It can be incredibly tough to compete with other local businesses as a direct competitor or an indirect competitor. 
And with online services, product shopping, and other quick services, the term "local" can be subjective nowadays.
But….
There are businesses that truly are only locally accessible and only need to compete with their local counterparts.
These are services that a customer must truly work with a local brick & mortar location like the auto services, food deliveries, dentists, pet care, and other services that a customer must truly work with a local brick & mortar location.
But, how can a business dominate over all those other competitors next door and down the block?
The answer is: Strategically.
There are tons, and we really do mean TONS of marketing tools to use to help a small business go from more slow times to constant busy times in a matter of weeks.
We know that business owners do not have the time to research, learn, find, and test multiple marketing tools, free or not. It is very time-consuming. Even if the business does have a designated marketing person, it is still time-consuming for them to really determine what should be used and how to allocate the time to monitor.
And no small business has the luxury anymore to avoid them all.
Every small business should have an arsenal of small business tools, a marketing toolbox that they have mastered. And if there's a tool that isn't working, then it needs to updated or tossed.
We tell our clients to master even just ONE marketing tool before adding more.
Everyone has to start somewhere!
If you're in the service industry as stated above, there is definitely one super awesome and effective marketing tool that can help your business skyrocket from flab to FAB, get better reviews and have better customer experience, overall increasing the likelihood of a return customer and positive branding.
The #1 marketing tool for any small local service business is….. SMS texting.
Yes, TEXTING. 
Hold on, we know what you're thinking….. we're not talking the random, out-of-the-blue, salesey text messaging, though!
We're talking about taking customer service 10X notches to put you way out ahead of your competitors.
Why is SMS texting the big secret?
REAL WORLD EXAMPLE > Domino's APP & Messaging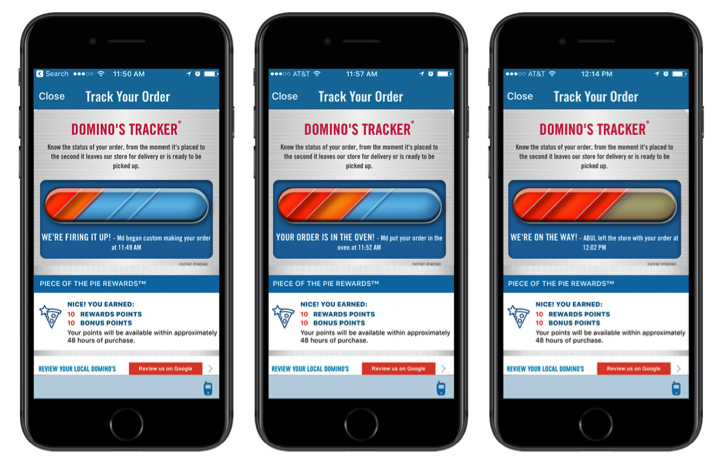 When was the last time you ordered a pizza, for example, Dominos? Have you used their app? If you haven't, you are missing out on some highly intuitive marketing. They have literally changed the expectation of food delivery, specifically pizza delivery. 
When you order a pizza through their app, there is an actual monitoring bar that allows you to see when they've started making your pizza, when it is in the oven, when someone is preparing it and when the delivery person is on their way. 
Plus, when the delivery person gets to your home, they can TEXT you to let you know, "HEY, I'M HERE!" We've seen this with a TON of delivery services, from Uber to Grubhub.
It's an amazing notification-type tool that allows the consumer to be presently aware of what is going on. Dominos reported that over 80% of consumers who used the app left their phones open to the app to watch the bar and notifications change. That's a massive number to just leave their phone sit there and not do anything else.
Let's put that ingenuity into a different type of local business > Auto Service
Now, imagine going to a local auto service and you need to get something as simple as an oil change. Maybe it's busier than normal, but you want to go to this place because they have a coupon, it's cheaper or your close proximity.
Oftentimes, the customer will then have to sit in a waiting room, unsure of the progress, if the vehicle has been started yet or when it's near ready.
This is where a local auto shop can shine.
They can send updates to a person's phone that the car is on the lift being worked on by "Brad". Not only does this give the customer an immediate sense of acknowledgment, but now the service became personal with knowing who is working on the car and the assurance it is being worked on.
Imagine again that a text comes through, "Auto dealer service update: vehicle oil replaced. Performing FREE maintenance checkup". I don't know about you, but I would be incredibly happy to see not only is the service almost done, but they were doing a free maintenance checkup. 
This is how you gain a more positive customer experience and start to build that unique branding for your local small service shop.
Incorporating this super easy customer attentiveness program, it can help your business:
stand out
increase return customers
positively affect your bottom-line profits
The coolest part?
This simple service marketing tool is EASY TO DO. It's done from either a phone or online. And, some systems even have this feature opportunity integrated with their programs as SMS updates that work along with service CRM's.
Don't have any of that? No problem, simply use a business cell phone and send it from there to start with. 
Or, take a look at companies like TextBetter who offer a service to send text messages through email.
There are many opportunities to send a text message.
Examples of when to send a text message for customer service:
Introducing them to the service & person
Their service begins
Their service is updating or moving forward or onto the next checkpoint
An additional bonus operation is performed (bonus – easy add-on)
Something is of concern
A question has arisen, might need to be addressed at the end
Something needs immediate attention
Another checkpoint, all checkpoints, progress bar report
Service has finished
Additional bonus (for example car service is cleaning the tires & windshield & topping off fluids)
Completed and link to find the invoice, phone number
---
Do you use any of these marketing tools for your small business currently?