Evergreen Content: Beginner's Guide For Long-Term Results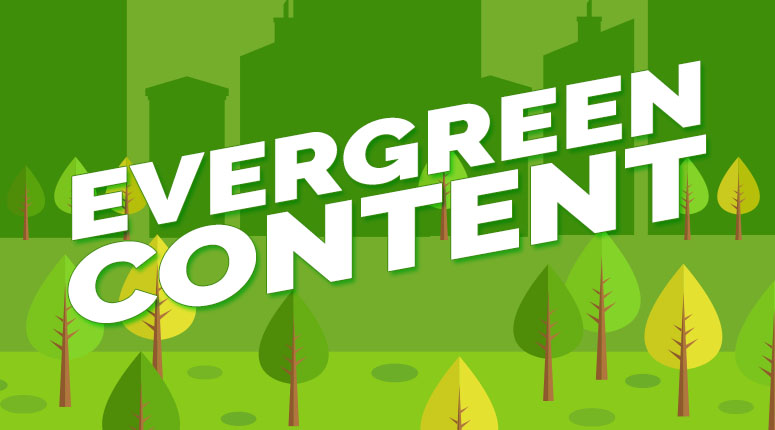 Writing articles online today is being more focused on creating evergreen content, which is considered continuously relevant to the reader on any given topic without being dated.
This type of writing works extremely well in coordinating online SEO and long-term strategic marketing goals because the content will be searched repeatedly over a long span of time.
What is Evergreen Content?
Think to yourself, "if a visitor came to my site and read this same content 1 year from now, will they still find it relevant and useful?" Evergreen content is SEO content that is continually relevant and stays "fresh" for readers. Evergreen content is also referred to as cornerstone content or flagship content. And while these terms appear to be interchangeable in the marketing realm, they do have slightly different meanings.
What is the difference between evergreen content vs cornerstone content vs flagship content?
What Is Evergreen Content: Quality, useful content that is considered always relevant to readers for a long period of time. If a visitor to the site reads the content the same day it was published or came across the same content 6 months later, it was still useful and felt "in-date".
What Is Cornerstone Content: Reflect your business, communicate your mission and are extremely well written. It may be content that all other content refers back to. Also, this content could be guest written by an authoritative figure and you are quite proud of it.
What Is Flagship Content: The most important, relevant or most visited content on your site, often becoming what your blog/website is known for. Often these posts generate the most value, authority, and longevity .
What Is NOT Evergreen Content
Since evergreen content is fresh, long-lasting, relevant for a long, long time, it is easy to create an opposite list of what evergreen is not.
Articles that are time stamped are not considered evergreen because they are specific to a certain period of time.

Statistical or numerical reports are not evergreen because they are not relevant for a reader looking for current statistical information. The content may be used in the future as a reference, comparison or historical standpoint, however, the content is not considered evergreen. (Example: Latest numbers or Stats of 2013)

Speculations and Opinions

Event Specific

Fashion and trends are not considered evergreen content.

Neither is pop culture references, fads, and news.

Breaking news reports
Other examples that are not considered evergreen content is the H1N1 flu virus, Barack Obama's inauguration, the price of oil and gas, cultural references, clothing trends, and celebrity news.
How To Create Evergreen Content – The "Do's"
A content writer can use keyword research tools to find short-tail and long-tail LSI keywords to determine phrases to use for evergreen articles.
Keep in mind these tips when structuring article ideas or strategies:
Beginners: Write content that gives your reader a starting point and gets down to the basics of your topic, service or product. Let them start at the beginner level and include links and directives to help drive them to other advanced articles to move them to the next level or stage of the buyers cycle.
Advanced: Every service and product should have it's own page, it's own content, an article that it can be back-linked to and content that is specifically featured.
Best Evergreen Content Examples
Here we've put together a list of our best examples of evergreen content to get you started. These most common types of evergreen content are sometimes narrowed down to guides, tips and lists.
Easily use this list for content creation. Write one piece of article every week for each item listed below. This gives you 16 weeks worth of focus!
Beginner's Guides

How-To Guides

Tutorials

Step-by-Step

Terms, Definitions and Terminology

Reader's FAQ's (frequently asked questions)

Testimonials and Reviews

Industry Tips

Historical or Origins Stories

Problems and Solutions

(Past

and Resolved)

Useful Tools

Must Know Resources

Facts and Case Studies

Lists (Best, Worst, Do, Don't, etc)

Overviews

Checklists (**HINT** Use as Freebies)
Top Categories for Evergreen Content
There are certain categories that have an abundant of evergreen content available. Follow the list below to weave into your own content or as an idea trigger to creating your own.
Aging, Elderly Care

Beauty

Career

Children

Dating

Family

Food and Recipes

Love and Marriage

Men's Health

Money

Nutrition and Healthy Eating

Parenting

Pets

Relationships

Weight loss

Women's Health
Share Your Content
Do you have an amazing evergreen content you'd like to share? Provide a link below in the comment section describing what it is in reference to (please no adult content) and we'll take a look! Let us know, is it your evergreen, cornerstone or flagship content!