Create a GDPR Message – Google Adsense
What is a GDPR Message?
The General Data Protection Regulation (GDPR) is a European Union law that applies to all businesses that store or process personal data on EU citizens.
If you have a Google Adsense account attached to a website, you may have seen this pop-up message recently:
You have the choice to have Google create a GDPR message for you and either change your CMP message anytime or not to create a message right now.
Just a reminder, this needs to be done by January 16th, 2024 if your ads reach UK audience and house any UK data.
Just three steps to creating a GDPR message
Create: Set up your privacy choices for your users and start creating messages
Style: Style our privacy message to match the look and feel of your site
Publish: When you're ready, simply hit publish and ensure your tag is in place
Create a GDPR message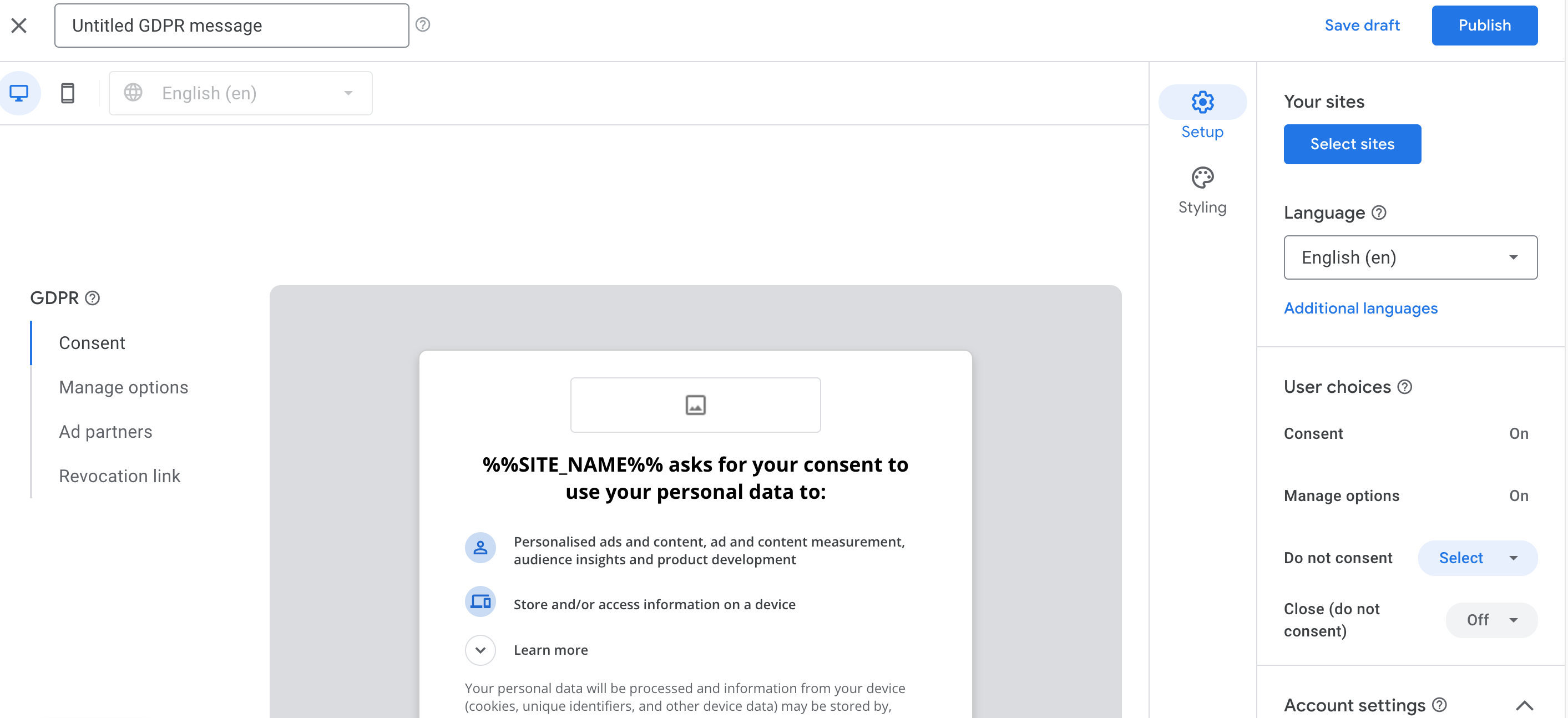 Add your privacy policy URL to your sites
Choose which consent options to include
Review your GDPR account settings
Publish your GDPR message
To change any of your published messages, go to Privacy & messaging. 
Learn more
How does GDPR and ePrivacy affect you?
To comply with Google's 
EU user consent policy
, you need to use a Google-certified CMP to collect consent from users in the European Economic Area & UK to show ads based on users' personal data and (where legally required) to use cookies or for local storage.
Tools to help publishers comply with the GDPR
Google gives users transparency and control over their ad experiences via tools in order to support a healthy, sustainable ads ecosystem and help you, our publishers, grow, such as:
Control over ads personalization
They also provide publisher controls for ads personalization:
Ad Technology Provider Controls:
A Non-Personalized Ads solution
You can read the full article and find more tools to comply with GDPR here ->